The Vegetable Garden in Spring - 5 March 2017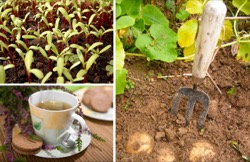 To kick off the Spring growing season, all plot holders are invited to an informal social gathering on Sunday, 5 March 2017 from 3 to 5pm.
As well as tea and cakes, Ted Warren our "Horticultural Facilitator" will lead a two-way chat to share ideas and group wisdom on topics such as soil improvement, fertilisers, crops to consider sowing from spring onwards, and how to protect them. Please come along with any questions or experience that you'd like to share with others.
This will be an outdoor event (subject to weather) so turn up at the allotment site car park from 3pm. The group chat will start around 3:30pm. The more the merrier!